A gentleman with his wife came to the desk and said that his son was looking at a bronze fish. Their son happened to be BBC Wildlife Producer, Adam White. Adam has been making Wildlife films at the BBC for almost 20 years and it was fascinating talking with him. You must watch Wild Brazil and his other films, they are amazing programmes, showing on BBC2 and probably Discovery. I am sure you can watch them on iPlayer if you missed them. It is best if Adam tells you about his work himself but what you are seeing below, is but a small fraction of what he does.
I have been making wildlife films at the BBC for almost 20 years.
No-one could believe what we had witnessed

Adam White
Filming
wild jaguars
was a real highlight, as for so much of my career they were viewed as un-filmable. Although they didn't give up their secrets easily, we had to spend 9 weeks on location, and search around 10,000 miles of riverbank to find them.
But my favourite part probably has to be following the
capuchin courtship story
. There was one breath-taking moment when after four days of this poor female trying to persuade the male to mate with her, they looked at each other and kissed. No-one could believe what we had witnessed.
Now, back to the bronze fish. I thought it was a trout or a carp when in fact, as was pointed out by Adam, it is a rare fish called an Arowana. The Asian Arowana (Scleropages formosus) is a freshwater fish indigenous to South-East Asia where it inhabits slow moving waters, rivers and streams. Entirely carnivorous, it has become an icon of cultural significance for its grace, longevity, incredible colour and stature and has earned the name Dragon Fish, referencing the Chinese Dragon. Currently, as an endangered species, it is bred under licence and close monitoring by the Asian agricultural authorities and each fish exported outside of Asia is microchipped, certified and licensed for transport.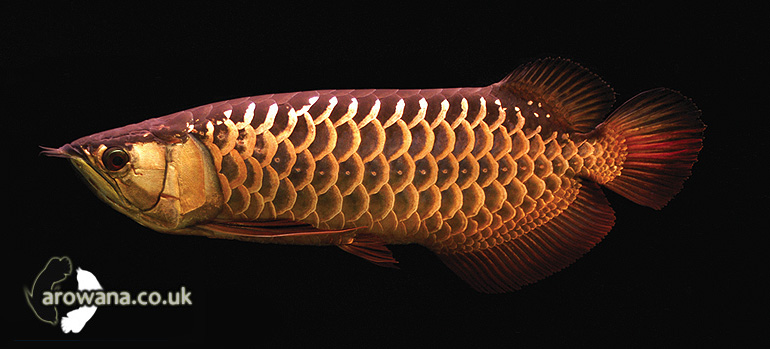 Beautiful Arowana
Thank you Adam for all the valuable information you have given to us on this marvellous fish.
Rita
For all the latest news, go to our Newsletter at www.hungerfordarcade.co.uk