Another one of our very interesting customers came into Hungerford Arcade and when he told us what he does for a living and where he works, I told him that I just had to Blog it.
"George the Wheel" (right) with a representative from
Morgan Motor Company (left) in the early 1980s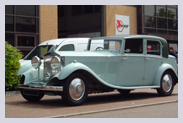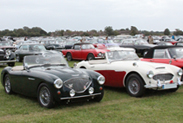 Dan Cooksley is the Workshop Man
ager for Motor Wheel Service International. Renowned worldwide, the company was founded at Becklow Road, Shepherds Bush, London in 1927. George Smith (aka George the Wheel) took ownership of the company in 1947 and it has remained a family owned business to this day.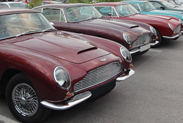 This is a fascinating company.
They can restore almost any wire wheel ever made. They also build wheels for specialist cars. In 1998 the company moved its Headquarters to Langley, Slough and in 2012, MWS celebrated their 85th Anniversary.
If you follow the link below to their website, you will find it full of photographs, history, and the full range of what they do and what they can do.